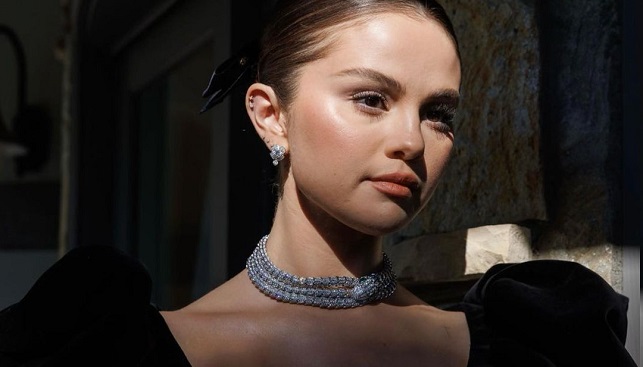 Are you a fashion enthusiast who is curious about the closets of your favorite celebrities? The Celebrity Closet Tour is the perfect opportunity to get an exclusive look at the fashion choices of some of the biggest names in the entertainment industry. In this article, we'll take a closer look at the closets of Selena Gomez, Doja Cat, Hailey Bieber, Angelina Jolie, and Paris Hilton.
Selena Gomez
Selena Gomez's fashion choices are always on point and reflect her personal style. Her love for leather jackets is evident, as she often wears them to add a cool edge to her outfits. In particular, she favors the classic black leather jacket, but also has some in bold colors like red and green. Selena's sunglasses collection is also worth noting, as she is often seen sporting oversized shades that complement her outfits perfectly.
When it comes to handbags, Selena has a range of styles, from crossbody bags to totes. She tends to favor structured bags that are both functional and stylish, and often opts for classic brands like Coach and Louis Vuitton. Additionally, Selena is a fan of sneakers and heels, and has a collection of designer shoes that include brands like Nike and Stuart Weitzman.
Red carpet events

One of Selena's most iconic fashion moments was at the 2019 Cannes Film Festival, where she wore a stunning white Louis Vuitton dress with a thigh-high slit. The dress was accessorized with statement Bulgari jewelry, including a necklace, bracelet, and ring. Another notable outfit was her 2020 American Music Awards look, where she donned a lime green Versace mini dress with strappy heels and a matching green clutch.
Selena Gomez's style 
Selena's fashion choices have been praised for their versatility and ability to mix high-end designer pieces with more affordable items. Her closet is a testament to her love for fashion and her willingness to take risks with her style.
Doja Cat
Doja Cat's fashion sense is truly one-of-a-kind and always manages to make a statement. She often experiments with bold prints, vibrant colors, and daring silhouettes, making her stand out from the crowd. Her love for mixing and matching patterns and textures is evident in her wardrobe, which features a range of different fabrics and designs.
Doja cat fashion must haves
One of Doja's signature fashion staples is her collection of platform boots. She can often be seen sporting chunky, platform boots in a variety of colors and styles, including patent leather, suede, and even glitter. Her love for statement footwear is also evident in her collection of high-top sneakers, which she often pairs with oversized graphic tees and colorful pants.
In addition to her footwear collection, Doja also has an impressive selection of oversized sunglasses, which she wears both on and off the stage. Her love for large frames and quirky designs is evident in her collection, which includes everything from round, retro-inspired frames to futuristic, shield-style sunglasses.
Wigs like Doja cat
Another key element of Doja's wardrobe is her collection of vibrant wigs. She often changes up her hairstyle to match her outfit, opting for bold, neon-colored wigs or long, flowing locks in shades of pink, purple, and blue. Her wigs have become a signature part of her overall look and have inspired many of her fans to experiment with bold and colorful hairstyles of their own.
Overall, Doja Cat's fashion choices are a reflection of her unique personality and willingness to take risks. Her eclectic wardrobe features a range of different styles and designs, making her a true fashion icon in her own right.
Hailey Bieber
Hailey Bieber is a fashion icon in her own right, often seen sporting the latest trends and styles. Her closet is organized and minimalist, with a focus on high-quality, classic pieces. Hailey's favorite designer brands include Saint Laurent, Balenciaga, and Bottega Veneta. She loves to wear oversized blazers, leather pants, and statement jewelry.
And let's not forget, when your husband is Justin Bieber, you can expect some seriously expensive gifts to add to your already lavish wardrobe. Hailey has been seen sporting a diamond necklace worth over $90,000 gifted to her by Justin. She also owns a Birkin bag worth over $23,000 and a diamond watch worth over $18,000. Talk about living the high life! But hey, when you're a fashion icon like Hailey, you deserve nothing but the best.
Angelina Jolie
Angelina Jolie's style can be described as understated glamour. She has a natural grace and poise that exudes elegance and sophistication. Her fashion choices often lean towards classic, timeless pieces that are simple but impactful. She has been known to wear a lot of black, which adds to her aura of mystery and allure.
 Statement earrings Angelina Jolie likes
One of Angelina's signature accessories is statement earrings. She often wears large, dangling earrings that add a touch of glamour to her overall look. In addition to her statement earrings, Angelina is also a fan of elegant heels. She has been spotted wearing stiletto pumps and strappy sandals on the red carpet.
One of the most noteworthy aspects of Angelina's style is her collection of vintage jewelry. She has accumulated an impressive collection over the years, which includes pieces from iconic designers such as Cartier and Van Cleef & Arpels. One of her most prized possessions is a vintage Cartier necklace that she wore to the 2009 Academy Awards. The necklace features over 100 carats of emeralds and is estimated to be worth over $2.5 million.
Another notable piece from Angelina's collection is a pair of vintage diamond earrings that she wore to the 2008 Cannes Film Festival. The earrings are estimated to be worth over $4 million and feature 115 carats of diamonds. Angelina has also been seen wearing a vintage emerald ring that is estimated to be worth over $1 million.
Angelina's love for vintage jewelry has not only influenced her personal style but has also had a broader impact on the fashion industry. Her red carpet appearances wearing vintage pieces have helped to popularize vintage jewelry as a fashion statement.
Paris Hilton's closet 
Paris Hilton's fashion sense is a blend of high-end luxury and playful glamor, with a touch of vintage inspiration.
Paris Hiltons jewelry collection 
Her love for statement jewelry is evident in her closet, where she owns a variety of dazzling pieces, including diamond-encrusted chokers, chunky chain necklaces, and drop earrings. One of her most famous pieces is a 20-carat diamond engagement ring, reportedly worth $2 million.
In addition to her engagement ring, Paris has a vast collection of high-end jewelry, including a Cartier diamond necklace worth over $300,000 and a set of diamond-encrusted watches worth a combined $500,000. She also has a collection of vintage-inspired jewelry, including a diamond-encrusted tiara and a pair of chandelier earrings reminiscent of old Hollywood glamour.
Paris's love for high-end fashion and jewelry has had a significant influence on the fashion industry. She popularized the trend of carrying small dogs as fashion accessories and helped make Juicy Couture tracksuits a fashion statement in the early 2000s. She also created her own fashion line, which includes a range of clothing, handbags, and accessories.
Paris Hilton's fashion sense is a reflection of her playful and daring personality, with a focus on high-end luxury and eye-catching accessories. Her love for statement jewelry and designer fashion has made her a fashion icon and trendsetter, inspiring countless fashion enthusiasts around the world.
In conclusion, the Celebrity Closet Tour provides an exclusive glimpse into the fashion choices of some of the biggest names in Hollywood. By taking a closer look at their closets and favorite pieces, we gain insights into their personal style and fashion sense. Whether you're a fashion enthusiast or simply curious, the Celebrity Closet Tour is sure to inspire and delight.